Business Succession Planning/Estates and Trusts
Planning to transition a business is hard. Business owners face not only issues of business readiness to sell or transition but also issues of personal readiness. Our individualized approach to business succession planning takes into consideration the right solution for you and your family as well as the right timing to implement that solution. At Jordon Voytek we help families preserve legacy, help owners keep their name on the door, help sons and daughters take the helm, and help retiring business owners begin to write the next chapter of their lives. Our lawyers will listen to your needs, help you plan for your future, and create possibilities.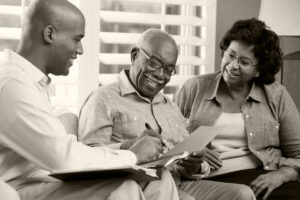 We coordinate the transition of your business with the transition of your assets helping you to formulate a gifting strategy that dovetails with any business objectives you may have.  We also help non-business owners with their estate planning needs, putting that same personalized approach to work to help families make and implement decisions that allow them to know their loved ones will be cared for when they are gone.  We provide assistance with wills, trusts, powers of attorney, HIPAA authorizations, and living wills for individuals and families of all shapes and sizes.