Essence McGill Arzu, Esq.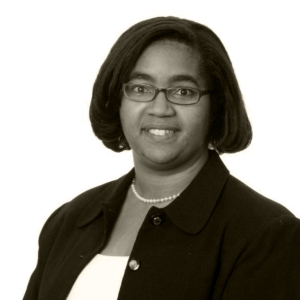 Essence McGill Arzu is a highly-skilled, creative, and forward–thinking business lawyer and leader with extensive experience in corporate finance (secured and unsecured debt & equity financings), business combinations (domestic and cross-border mergers, acquisitions, asset purchases, and joint ventures), nonprofit governance matters (formation and general operational issues, mergers and acquisitions, and maintaining tax-exempt status) and advising early stage and emerging businesses on governance, financing, and contract matters. With over 20 years of corporate experience, she has a track record of developing effective legal and business strategies, building strong alliances with and among diverse constituencies, leading and managing complex projects and teams, and advising on risk management and corporate governance issues in both national and international arenas.
Essence started her career in 2000 in the corporate practice of international law firm Salans (now known as Dentons) in its New York, N.Y. and Moscow, Russia offices where she concentrated on domestic and international mergers & acquisitions, banking and bank regulatory matters, and securities regulation and compliance. In 2004, she joined the Business Department at Boston law firm Foley Hoag LLP as an associate, and then a partner, developing an expertise in debt financing transactions. Essence also served as co-chair of Foley Hoag's nonprofit & social venture practice.
Essence received her J.D. from Columbia University School of Law, her M.A. from the Harvard Graduate School of Arts & Sciences Davis Center for Russian Studies, and her B.A. from Harvard University. She is admitted to the bar in Massachusetts, Washington DC, and New York.
Essence is committed to mentoring and applies her skills toward community and mission-driven goals. She has been active in a number of legal, business, and civic organizations and has served on numerous nonprofit boards including the Big Sister Association of Greater Boston, Boston Dance Alliance, The Partnership, Inc., Boston Bar Foundation, Harvard Club of Boston, Celebrity Series of Boston, Boston Children's Museum, Massachusetts Black Women Attorneys, Boston Educational Development Foundation, Beth Israel Deaconess Medical Center, and Massachusetts Continuing Legal Education. Essence was selected as a Boston Business Journal "40 Under 40" honoree, as a member of Boston Bar Association's Public Interest Leadership Program, to The Partnership, Inc.'s Fellows and Next Generation Executive Programs, and to the Women's Bar Association Leadership Initiative. Essence is a member of the Boston Alumnae Chapter of Delta Sigma Theta Sorority Incorporated and lives in Somerville, Massachusetts with her husband (an excellent chef!) and their golf clubs.